Today, I am so excited to welcome Rachel Coley, MS, OTR/L, of CanDo Kiddo to share a peek behind the scenes of her new business! As a new mom, Rachel lets her personal passion for parenting and her professional expertise about babies collide in CanDo Kiddo, a family business with a mission to support and inspire new parents to play with their newborns for healthy development.
Please tell me a little bit about yourself. How long have you been an occupational therapist? What is your primary practice area?
I've been an OT for nearly 9 years - all of them in pediatrics. I've bounced around - working in a pediatric rehab in a children's hospital, in-home early intervention (under 3), clinics with a sensory integration emphasis, and in a private practice treating Plagiocephaly and Torticollis. For the past four years, I've worked in an inclusive day care and preschool. Being able to focus on those first months and years of childhood and working with children with special needs right alongside their typically-developing friends was an ideal setting for me.
Tell me a bit about CanDo Kiddo. Where did the idea come from? How did you take it from idea to reality?
I've long been interested in parent education to promote infant wellness but felt that I couldn't move into that sort of role with any credibility until I had a child of my own. No one wants parenting support from the lady with no kids! Then I had a baby. When I posted photos of activities I was doing with my newborn on my personal Facebook page, I received lots of unsolicited encouragement to start a blog, write a book or create a product to help parents. It felt like my long-standing interest in helping parents help their babies was beckoning me so I answered.
I've had an online business since 2012 so I had already tackled some of the learning curves. But I'm a bit on the over-achiever side so the moment I had the idea of an activity quilt I was setting up a website, purchasing fabrics, and working on my first book. I reached out to a friend who had sold on Etsy, spoke with quilters and seamstresses, and joined a blogging and online business group.
I LOVE your play mat quilts! What makes your play mats different from the typical play mats parents will find at Target or on Amazon?
Thanks! The main difference is that the only "bells and whistles" my play mat has is custom fabric with 45 creative play ideas printed directly on the quilt. I wanted the product to be simple to show parents that babies don't need a lot of stuff, gear or equipment. And I wanted it to be a resource for new parents - to remind them that their baby needs to be down on the floor moving and playing every day and give them ideas of how to do that.
The main reason I thought of a quilt was that I wanted to get the information in the hands of parents right before their babies arrived. I figured that creating a cute baby shower gift might be a good strategy and would be an alternative to giving new parents more baby gear and equipment.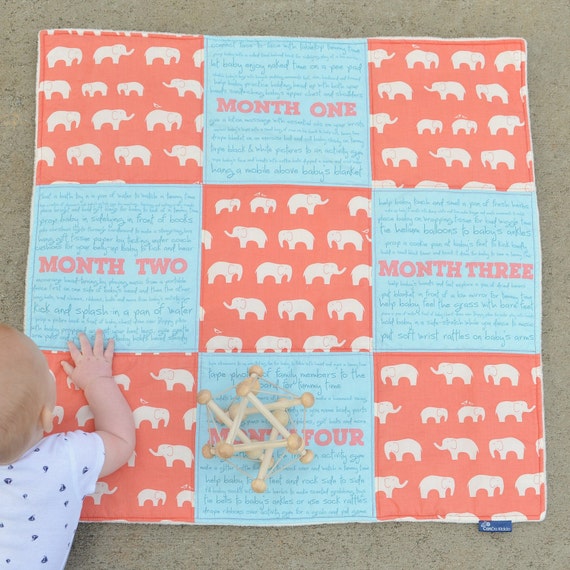 What has been the most surprising thing about starting CanDo Kiddo?
Definitely the most surprising thing has been how much I've been able to do while having a baby in the house! I started CanDo Kiddo when Rowan was 8 weeks old and have learned along the way how to maximize my time with him while still getting a lot done for the business and blog. It's not always been easy but it's amazing how much doing work that you're passionate about motivates you to push hard.
What are your dreams for CanDo Kiddo? Where do you see CanDo Kiddo in five years?
I have dreams for CanDo Kiddo that go in a million directions! I don't particularly care that CanDo Kiddo is a household name, but I care dearly that the information I present becomes household knowledge. I love writing and teaching so I'd love to continue to grow the business in those directions - more books, speaking engagements, maybe even direct consulting or coaching with parents. I'd also hope to push for reform in daycare licensing policy to include variety in infant positioning as a criteria for licensing and rating facilities. Oh, and have a dozen more babies. I'm in the process of convincing my husband that it's good for the business!
What advice would you give to an OT who has a product/blog/book idea, but doesn't know where to start?
Use the internet. That sounds like such a cliche these days but truly every "how to" that you could possibly want to know is out there. How to start a blog, how to self-publish a book, to sell something on Amazon or through your own site. Find others who have done something similar and reach out - ask for their best tips, resources and if they could recommend any groups to you. And finally, do something badly. I heard that tip recently on a podcast and it really spoke to me. Don't wait until everything is perfect - just launch it. You can always redesign a website, do a second print run of a book or change a product. I can almost guarantee that where you wind up won't be where you began but you have to just get started.
You're a new mom and a pediatric occupational therapist. As someone who is very knowledgeable about child development, what has been the most surprising aspect of becoming a mom?
It doesn't matter how much I know or understand about infant development, it is still jaw-droppingly miraculous to watch this little being who I love more than anything learn and grow. The human body, brain and spirit have always amazed me but infinitely more so when they belong to my child.